Make Your Dream Trip A Reality - With Airbnb
You've no doubt seen the blissful tree houses, fairy-tale castles, and chic apartments available on Airbnb, and you've probably bookmarked a few as travel inspiration. The home-sharing website is famous for inspiring fantasy vacations, but did you know it can also help you save for that dream trip?
Getting Started
Airbnb makes it simple to earn extra money by putting your extra space to work for you. You can share a spare room in your apartment, host your whole home the next time you're out of town, or create a listing for a holiday home, if you have one. However you choose to host, Airbnb offers support that makes jumping into entrepreneurship easy without being intimidating. The online process to create a listing is pretty quick and easy; you write descriptions of your space, upload photos, and mark dates your space is available to travellers. And it's always free to create a listing.
Your Earnings
So just how much could you make hosting on Airbnb? Find out what hosts in your area are making, and start imagining the possibilities. Besides saving for travel, Airbnb hosts use their extra income to pay off loans, upgrade their home (kitchen remodel, anyone?), and pursue their passions. Airbnb makes the payment process simple, too. Guests are charged when a reservation is made, and funds are typically released to hosts 24 hours after check-in. How you're paid is up to you; you can set up direct deposit, PayPal, or a number of other options.
Host Support
Once you're a host, Airbnb has all kinds of cool tools to help you feel comfortable and confident welcoming guests. You can find hosting tips on the Airbnb blog and get your questions answered by experienced, successful hosts in the Community Center. Nervous about the safety of your home and belongings when you're away? Airbnb's got your back. In the rare event an accident happens, your property is covered up to a million dollars when you host; it's peace of mind for you at no extra charge. And as for the folks staying at your place, everyone who travels on Airbnb needs to submit a profile photo and confirmed phone number and email address. For extra assurance, you can also require your guests to submit a government-issued ID.
Hometown Pride
Hosting can also help you show off what makes your city or destination great. Nothing's more frustrating than meeting a visitor on the last day of their trip, and hearing that they only saw the tourist haunts. When you welcome travellers from around the world as a host on Airbnb, you get to introduce them to all that makes your neighbourhood great, as well as drive more business to your favourite local shops, eateries and more.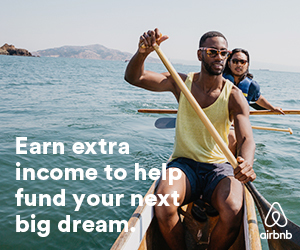 Start hosting now, and you can start earning extra money toward your own adventure!
Reviews
Write Review
This article hasn't received any reviews yet. Be the first to review this article!
Posted by Carla Hodges on 19th Mar 2019 Verified Customer

Great Experiences

Depending on where we travel and for how long, we use airbnb a lot. So far we've had great experiences and nice hosts....top of our list was an apartment in Venice overlooking a canal but out of the touristy area, also we stayed in a villa in Greece which was stunning with a pool and views of the ocean. I am hoping our future experiences in America will be as good!

Posted by Ida B on 19th Mar 2019 Verified Customer

It Works For Us

We retired last year and had a huge place with a granny flat in our garden. We signed up for Airbnb and I have to say it has worked for us with few problems. We can rent our spaces out when we choose and so far it's paid for some renovations on our house, and a couple of trips. Well worth it if you have time.